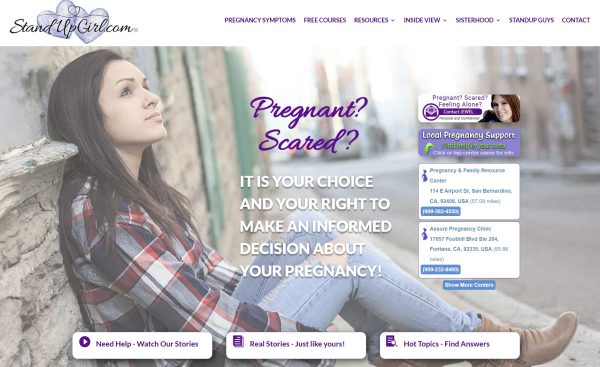 StandUpGirl.com is nothing short of a miracle. Founded in 2000, this amazing website now reaches nearly 400,000 young people each month – over 4 million girls each year. Most guests remain on the site an average of 15 minutes, taking in phenomenal fetal development photography, life-like illustrations, remarkable video and a music room. In addition, resources connect young women from all over the world who share their stories of hope and courage.
Perhaps the most important component of the website is the real-life stories of girls facing their own crisis pregnancies and how our StandUpGirl.com team provides personal and individual guidance and concern to help them make a choice that both they and their baby can live with.
StandUpGirl.com is among the most visited abortion-related websites in the world, and is changing hearts and saving lives!
Rev. John G. Vlazny on StandUpGirl.com
The website has grown beyond all expectations. When troubled young women approach StandUpGirl.com, eleven volunteers respond to them through emails, chat rooms, forums and blogs. The website also offers 3-D and 4-D ultrasound images of developing fetuses, toll-free confidential help-line information, quick answers to common pregnancy and fetal development questions and a core of young women who are all in need of one another support. StandUpGirl.com has become one of the top five abortion-related websites in the world. There were four million visitors last year and since the year 2000 there have been 4 million visitors.