Salem Gala Registration is closed.
Please Join Us at our Northern Willamette Valley Gala >>
Welcome to StandUpGirl.com Foundation
StandUpGirl.com is having a tremendous impact on young women in unplanned pregnancies, and we would love for you to be a part of this life-changing, life-saving work!
Each year we host benefit dinners around Oregon, raising the funds necessary to help young women in crisis pregnancies find our site. We invite you to learn more about StandUpGirl.com by attending one of these benefit events.
StandUpGirl.com has over 42.6 million visitors seeing over 400,000 per month along with another 595,000 visits per month to our Facebook page.
StandUpGirl.com Monthly Reach

100%

100%

StandUpGirl Facebook Page

80%

80%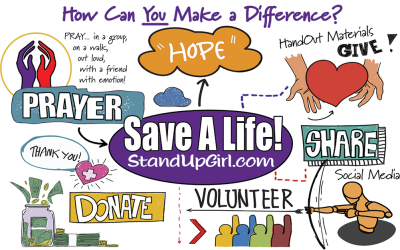 For 18 years StandUpGirl.com has been on the cutting edge of the pregnancy help movement offering a community of support and referrals to local resources for young women right where they are at, the internet. While our mission is not unique our approach certainly is....
read more
Click on image to view larger slideshow