Salem Gala Registration is closed.
Please Join Us at our Northern Willamette Valley Gala >>
Welcome to StandUpGirl.com Foundation
StandUpGirl.com is having a tremendous impact on young women in unplanned pregnancies, and we would love for you to be a part of this life-changing, life-saving work!
Each year we host benefit dinners around Oregon, raising the funds necessary to help young women in crisis pregnancies find our site. We invite you to learn more about StandUpGirl.com by attending one of these benefit events.
StandUpGirl.com has over 42.6 million visitors seeing over 400,000 per month along with another 595,000 visits per month to our Facebook page.
StandUpGirl.com Monthly Reach

100%

100%

StandUpGirl Facebook Page

80%

80%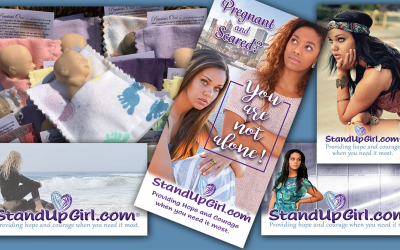 Portland,Oregon- January 2019 It was very early in the morning, around 7am. I had just put down a sign that said " Have questions? Just ask for help," and had on hand the soft little preborn baby and an info card along with an information packet when a Lyft car pulled...
read more
Click on image to view larger slideshow